BLOODROOT BLOOMING IN MORRIS PARK, MAYAPPLES RISING OUT THE EARTH IN WEST FAIRMOUNT PARK. SANGUINE ROOT SPENDS DAY ENJOYING FLOWERS, REMOVING INVASIVES AND EXPLORING NEW AREAS OF FAIRMOUNT PARK.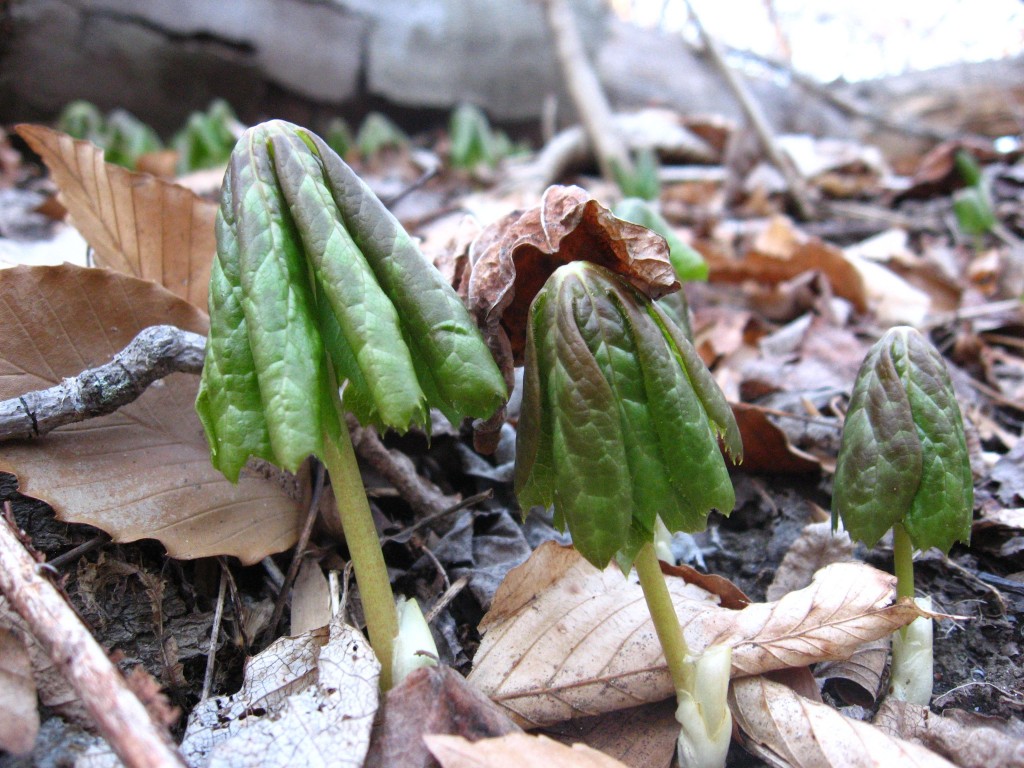 What are those little green umbrellas?
Bloodroot (Sanguinaria canadensis) patch just beginning its bloom season. Â These guys waited with tightly closed flowers for the past few days during the cold spell. Â This afternoon's warm sun encouraged a few of them to let loose and do some blooming while the other wallflowers remained tightly closed. Â The afternoon between 2 and 4 is the best time to catch a bloom, as long as the sun is out and the temperatures are above 45 degrees. These days, Bloodroot is not a morning riser. There are some populations of Bloodroot that have not even come up yet. Â The staggering of blooming is a great thing here in Morris Park. The bloom season lasts almost three weeks! Â We will keep you posted on the bloom times and the final bloomers and stragglers.
Spicebush (Lindera benzoin) in full bloom here in Morris park. Â This specimen is on a steep hillside that gets lots of sun, and is blooming earlier than other specimens. Â We are starting to see the pretty yellow haze of a forest full of blooming Spicebush.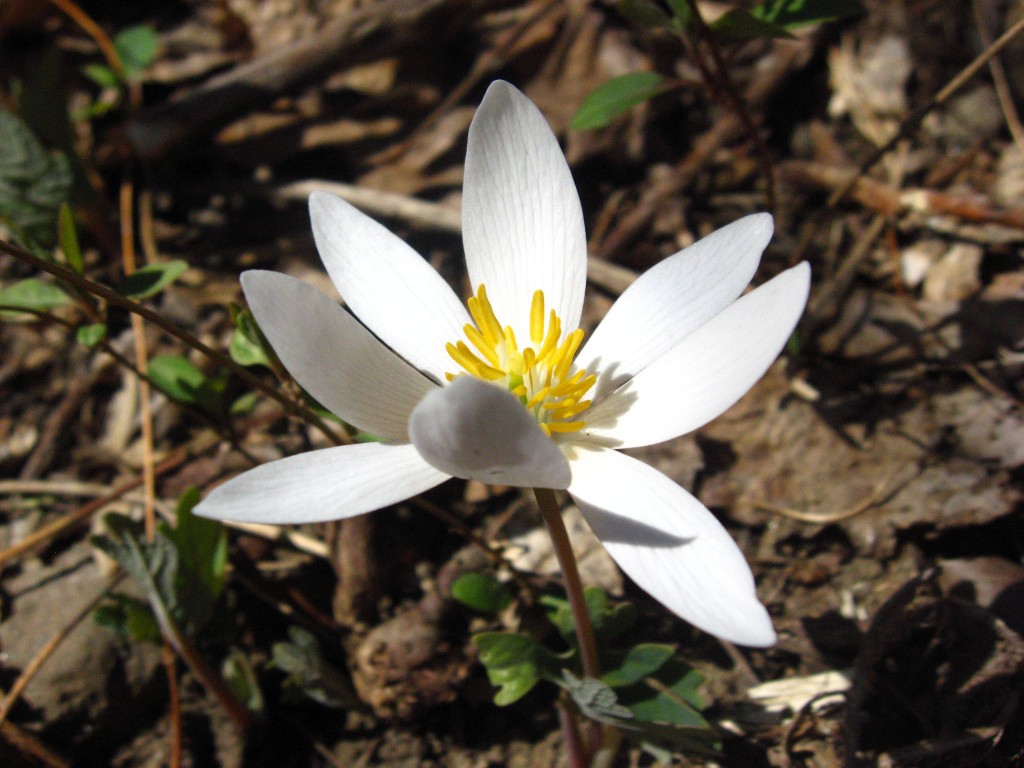 This Bloodroot flower was right underneath the above photographed blooming Spicebush.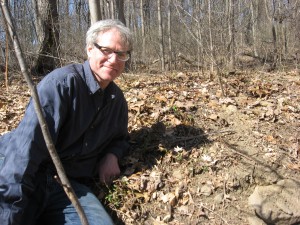 A happy day. Â Taking a break from a couple of hours of removing the invasive exotic Euonymus alatus, the Burning bush, a problematic shrub that crowds out native species and creates a negative impact on the forest. Â Just a few weeks ago, the Sanguine Root environmental restoration team had removed a thick matte of the invasive exotic Lonicera japonica (Japanese honeysuckle) from the entire area , right where these bloodroot plants are now flowering. Â Now we can just sit back and enjoy the flowers.
Podophyllum peltatum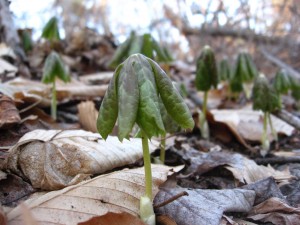 We didnt want to to work too hard today and decided to quit early and explore a different section of Fairmount Park. Â Isabelle wanted to see a happy place, a part of the park without an overwhelming presence of invasives. We both agreed, however, there is no guarantee when we go to a place we have never been to before that we will find such a place. Today, we did find the happy path, a bicycle route north of the Belmont plateau in West Fairmount Park was the ticket. Â We Found Mayapples (Podophyllum peltatum) rising up from below the leaf litter, a happy forest of little green umbrellas. Â We were interested that we were only about 100 feet or so lower in elevation than our area of Morris Park, where there are no Mayapples to be seen, and here there they are, coming right up, in West Fairmount Park. Â It is so interesting to witness different micro-climates within the City Of Philadelphia. We expect that within the next week, the Mayapples in Morris Park will begin to emerge as well. Â What can be more heart-warming than the emergence of a fresh colony of Mayapples on the hillside in the springtime?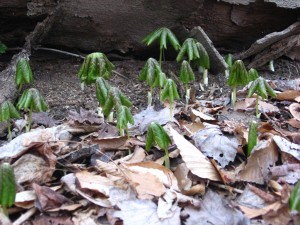 We found a very small and isolated colony of the rare Crane-fly orchid (Tipularia discolor) on our walk. What a pleasant surprise. Â We will have to come back when it blooms.