THE DELAWARE RIVER VALLEY IN BUCKS COUNTY HAS MUCH TO OFFER. WE WERE LOOKING FOR A QUIET AFTERNOON STROLL IN A SECLUDED RAVINE WITH AN ABUNDANCE OF WILDFLOWERS, IN A PLACE WE HAVE NOT BEEN TO, WITHIN AN HOUR OR SO FROM PHILADELPHIA.
It was Memorial Day weekend and we had the place to ourselves. It turned into a 3 and 1/2 hour hike along a rocky trail.We moved slowly examining the plants, shrubs and trees along the way.  We admired the varieties of ferns growing along the path and up the steep hillside. There was a parking area, with Mayapples, picnic benches, a charming town park.  A trail led us out of this setting and it became increasingly wilder, with steep rocky terrain hosting a great variety of herbaceous forest understory plants that kept us fully entertained for the first hour.  Keeba was very happy to be in a new terrain. Our goal was to find and photograph the Trillium cernuum that  Anne Rhodes and Timothy Block mentioned seeing in their book The Natural Areas Of Bucks County.  The above picture is a happy one indeed, because we got to see Trillium cernuum growing in its ecosystem. We would love to have this species in our garden, but have not yet found a nursery that propagates it.
The Christmas fern (Polystichum acrostichoides) figured prominently in our walk. This time of year we can see the fertile section of the frond. Â We saw these growing tall and abundantly.
If you ever dream of having a rock garden, this is the place to get ideas.  It is always informative to see which plants grow together in nature and what the conditions are. After dealing with the  race car track mess in Morris Park, it was great to come to this peaceful ravine where the value of the land and its use has been settled and is now enjoyed by all for what it is and has been for millennia.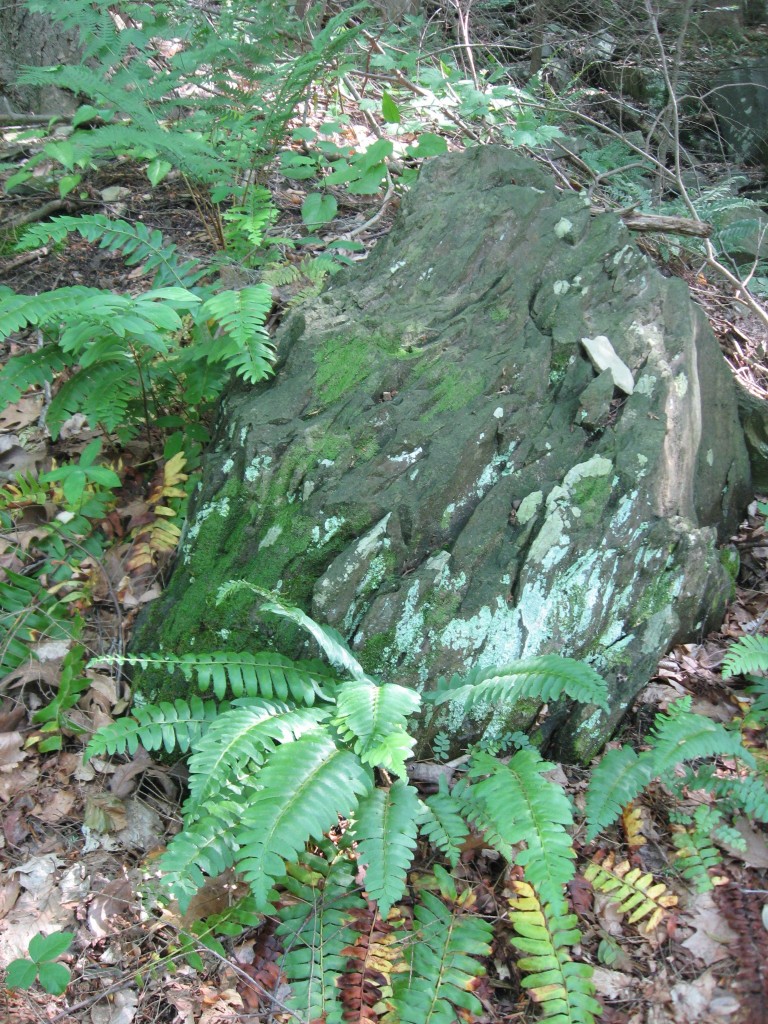 The rocks and ferns together make for a pleasing visual composition.  There are some areas in Pennsylvania where there are rocks  that  are hundreds of millions years old that can be split in half to reveal fern fossils.  Ferns that grew in that exact spot in a time that is difficult to imagine. Ferns are so old they are found in the rocks.
Woodland phlox graces the trail. Â It is so important to see other parks and natural areas, to see what is growing there, and how the surrounding communities and friends groups are restoring and maintaining them. This gives us an education on what works the best and what mistakes not to make. Sometimes one has to leave home in order to appreciate it and to have a better understanding of how to improve it. Â This place was full of serenity. Â To have an experience like this is what we needed to have so we can enjoy the beauty of our region, and feel tranquil about it. Â Somebody worked very hard to create this park and others work hard to maintain it, and we just show up to enjoy it.
The convenient parking area is right at the trailhead. In the springtime you will be greeted by a patch of Mayapples.
The sign could use a bit of straightening.  Perhaps some dark stain and more white paint in the lettering.  The invasive exotic, noxious Japanese knotweed  surrounding the sign needs to be controlled. Maintenance is always the issue when it comes to park signage and infrastructure, as well as environmental restoration.  However, what a great afternoon in a spectacular park!