MAYAPPLES, PINXTER-BLOOM AZALEA, CORAL HONEYSUCKLE AND WILD GERANIUM ALL BLOOM WITH JUST A FEW DAYS APART. DOGWOOD STILL BLOOMING THROUGHOUT PARK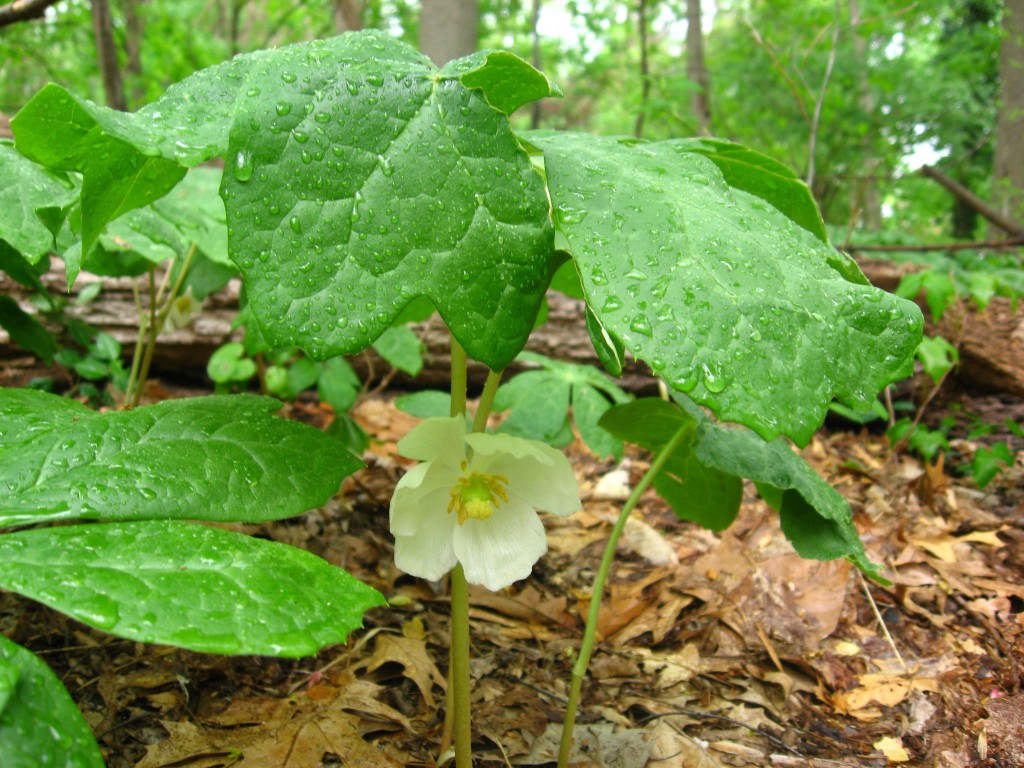 Look closely, underneath the double parasols can be found the waxy white flowers in full bloom.
Podophyllum peltatum
The Mayapple flowers have finally come to Morris Park.  These pictures were taken this afternoon after some April Showers. Once lowered down below the leaves, one can see the flowers, many as much as 2 inches across.  This is a time when many plants are blooming at once, so it is hard to keep up, or to remain focused on one flower like we have been doing with the Bloodroot.  The Mayapple flower can easily be overlooked because they bloom underneath the umbrella-like leaves.
Also this afternoon, this one Geranium maculatum was found blooming.  There will be more to come.
The native honeysuckle, Lonicera sempervirens, is blooming. A huge effort has been undertaken to preserve this plant in Morris Park.  Some of the specimens were mistaken for the Lonicera japonica, the much more common and invasive exotic Japanese honeysuckle and were cut by a well-meaning person who was unaware of the native specimens and wanted to protect the young trees from the choking vines.   The two vines are very similar in appearance to the untrained eye. The Sanguine Root took immediate action after this unfortunate incident, and proceeded to carefully remove the Japanese honeysuckle from the entire area, much of  which was twining up the same tree as the native one!  This was a tedious process, but necessary to preserve the native Honeysuckle.  The above picture is our reward for all of the hard work.  While we generally avoid any kind of ribbons or tags in the park, there are some circumstances that require their use.  We have small pale -yellow ribbons identifying the plant, so that there will be no more mistaken identity in the future.
Rhododendron periclymenoides
Blooming Pinxter-bloom Azalea.  This is a great native shrub in the forest.  This specific specimen is the biggest we have ever seen. Hundreds of bright pink blooms!  There are a handful of these in the overlook area at the end of the Morris Park Road Trail.  We dote over them and make sure there are no invasives nearby.
Yeah, we also decided to go ahead and buy one for our yard, and they are available at native plant nurseries.